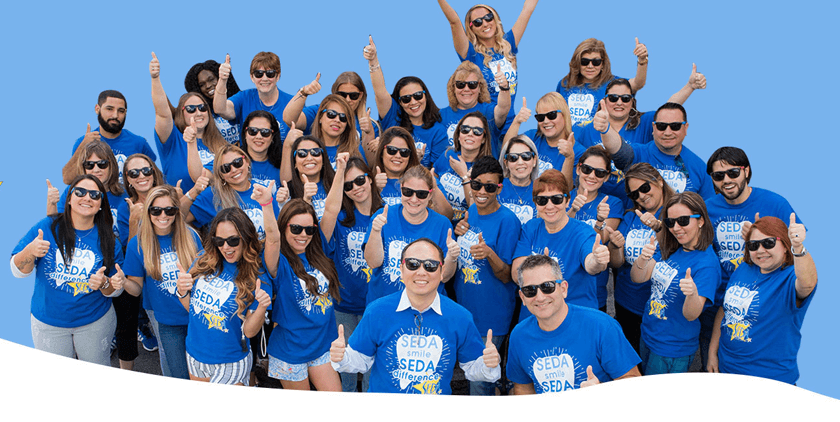 Meet Our SEDA Dental Team
Our Front Office Team
The SEDA Dental office staff will be the first faces you see when you walk through the door of our facilities and the last when you leave. They pride themselves in being dedicated to creating a warm, relaxing atmosphere for all of our patients to enjoy. Our office team members are ready to assist you in scheduling all of your appointments and consultations, and they also work to create flexible, affordable payment options by contacting your insurance provider. Most importantly, they help to keep each of our offices running smoothly to ensure everyone has a positive experience at any of our South Florida SEDA Dental offices.
Our Dental Hygienists
The SEDA Dental team of dental hygienists utilizes the most up-to-date technology and the finest dental materials to provide our patients with a pleasant, successful experience, whether they are visiting us for a routine dental cleaning or a periodontal therapy. Our SEDA Dental hygienists are licensed dental professionals who work alongside our dentists to provide full oral health care. They have training and education that focuses and specializes in the prevention and treatment of oral disease. The SEDA Dental hygienists assess each patients' condition in order to offer patient-specific preventive care and educational services to promote and maintain optimal oral health.
Our Dental Assistants
Our SEDA Dental team of assistants are valuable members of our dental care team. Their duties are among the most comprehensive and varied in our South Florida dental facilities. They perform many tasks requiring both interpersonal and technical skills, including providing assistance during a variety of treatment procedures and taking and developing dental x-rays. They also serve as infection control officers and develop an infection control protocol for preparing and sterilizing instruments and equipment. Each member of our team is dedicated to helping our patients feel comfortable before, during, and after dental treatments and providing patients with instructions for oral care following surgery or other dental treatment procedures.